Sorry for the crappy photo's in this post, but these days are somehow very busy, there is simply no time to do a proper photo shoot. So I decided to quickly make some self-timer photos, so that I at least would be able to write a blog post again. Hopefully you agree that crappy photos are better than no photos at all...
A few months ago I bought my first book on sewing clothes, Dressmaking by Alison Smith. It contains quite a bit of helpful information, for instance on fabric choices, fitting issues, and some useful construction tips. Very suitable for beginners. It also contains a number of basic sewing patterns and explanation for varying these. I convinced my then-boyfriend "I would never need to buy another pattern ever again".
Yeah, right... ;) Truth be told, the styling in the book looks a bit out-dated, which didn't stimulate me to start making them. This is for instance how they made up the blouse-pattern I used: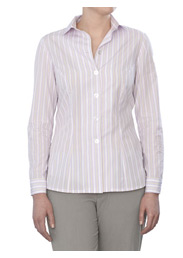 Just a little... meh. Compare that to, say, the very hip and stylish Mimi blouse of Tilly and the Buttons (numerous gorgeous versions to be seen on the web):
Yep. I would want to make the Mimi blouse so much more! But the problem with Mimi is that it has a 'relaxed fit', which is known to make my little frame look utterly and unflatteringly shapeless. On the other hand, Alisons blouse has princess lines and is nicely fitted. And already in my possession. And wouldn't I be able to draft that gorgeous Chelsea collar myself? Sounds like a nice challenge!
And it was. Actually the biggest challenge was getting the original pattern together itself. The book doesn't enclose full-sized patterns, but instead gives you the option to either somehow enlarge the patterns printed at 25% of the size in the back of the book, or print them from a pdf from a link. Of course the latter is the easiest, but for some reason, every size is on a different pdf, which makes grading between sizes a pain in the behind. As I needed a size 6-8 for my shoulders and bust and a size 10-12 for my waist and hips, I had to print, cut and stick together two separate patterns and then somehow overlap them and grade. I managed, but the resulting pattern does not look pretty.
The nitty gritty
(skip to the conclusion if you're not interested in the technical details)
The neckline I just drafted by eye, which succeeded surprisingly well. For the drafting of the collar I used
this
helpful tutorial by the little tailoress, which was quite easy. The only change I made was understitching the collar as far as I could, to prevent the seam line from showing. I finished the collar with bias tape on the inside. The pattern includes a facing for the button placket and the front neckline in one, but I just included the part for the placket, turned it under itself and topstitched it (I can't stand facings that are loose, they always flap over to the wrong side...). The edges of the bias tape I tucked underneath the facing of the button placket, for a nice finish on the inside.
Now let's talk about the fitting of the pattern. Usually with one of the Big Four patterns I am very aware of huge amounts of ease, so I always sew at least a size smaller than indicated by the sizing table, but here it was pretty accurate. I only took in the bust a little where the princess line meets the armscye. The back seems a little too roomy at my shoulders, but I'm wary of correcting this, as I am known to over-fit until I cannot move in my clothes any more ;). I shortened the overall length of the blouse by 10 cm, because I'm small. Overall, I'm quite happy with the fit of the blouse.
The sleeves were a different story. Obviously I shortened them and added a simple band to finish. But before setting them, I already noticed that the sleeve cap was pretty high. And indeed, after sewing them in (with lots of easing, but I'm getting really good at that!) and trying the blouse on, it just felt a little restricting and the shoulders would stick up weirdly if I lifted my arms. So I ripped them out again and lowered the sleeve head, which also got rid of the ease. It still feels like something is not quite right though. I was actually hoping that with this pattern I would finally have a nice-fitting normal sleeve, but instead now I start to appreciate puffed sleeves. They are so much easier to fit and look cute too! So if any of you know a pattern with well-fitting, normal sleeves, please let me know in a comment below! I would be grateful.
Conclusion
I quite like this little blouse. I love the fabric, it is my favorite color and the print is very sweet. Only problem is it wrinkles quite a bit. But for a blouse it is okay, right? I love the collar and I'm happy I managed to draft it myself! The only thing I would change next time, is draft it with only 1 cm overlap on the shoulder seams, instead of the 2 in the tutorial. It is pulling a little, causing wrinkles just under below my shoulders on the front.
Did you ever sew up a pattern that from the pictures on it didn't look attractive at all? And were you happy with it in the end?
Mis je de Nederlandse vertaling? Vanwege tijdgebrek heb ik besloten dat deze keer weg te laten. Ik hoop dat jullie m'n Engels ook kunnen lezen. Ik overweeg om permanent in het Engels te gaan schrijven. Als jullie dat erg jammer vinden, of als jullie als gevolg hiervan m'n blog niet meer zullen lezen, laat graag een berichtje achter, dan weet ik dat en zal heroverwegen.